Testimonials
HERE'S WHAT CHILDREN AND FAMILIES OF THE YORK CENTRE ARE SAYING...
"What sets this agency apart is its commitment to the clients and families it serves." J.H.
"I quickly realized that the staff at The York Centre actually listened to my input of our experiences. They seemed to find my information important...My immediate feeling was "these guys know what to do." G.M.
"The York Centre teaches kids how to stop their cycle of anxiety before it gets to the behaviour stage." B.R.
"At the three-month mark for my son at The York Centre, he was already a different boy. This I credit to his teacher and child & youth worker. They reached him when no one else was able to...thanks to them, I have my son back." D.R.
"The York Centre has helped me by teaching me how to face my fears … I think The York Centre is a great place for struggling kids." C.H.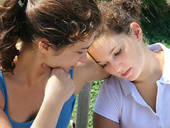 For further information please contact us.